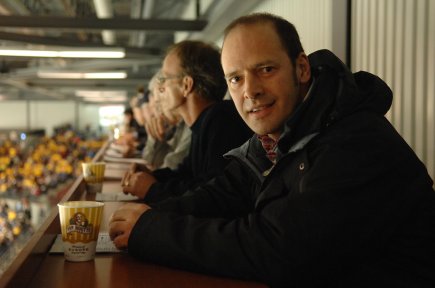 SAINT JOHN
– It's probably safe to say the Baie-Comeau Drakkar currently have one of the stranger coaching setups in the Quebec Major Junior Hockey League.
On March 13 – less than two weeks before the playoffs started – the Drakkar fired head coach Mario Pouliot. So, general manager Steve Ahern decided to take over the coaching duties for what was left of the regular season and playoffs.
Ahern and the Drakkar got some help though, adding Denis Francoeur behind the bench, a former head coach in Bathurst and Shawinigan. Baie-Comeau got immediate results in the playoffs, winning the first two games in Victoriaville. The success would continue.
Francoeur then told general manager Steve Ahern he couldn't be behind the bench for Games 3 and 4 because of other work commitments with his hockey schools in the Shawinigan area, 700 kilometres from Baie-Comeau. (Francoeur was working as Ahern's assistant GM prior to Pouliot's firing and only agreed to take on the coaching duties on an emergency day-to-day basis.)
But Ahern wouldn't quit. He begged Francoeur to reconsider and finally persuaded him to fly to Baie-Comeau at the last minute to coach Games 3 and 4. The Drakkar rushed Francoeur to Baie-Comeau in a private plane at the end of his work day on Tuesday, getting him to the rink just in time for the warm-up.
And clearly the extreme measures paid off because Francoeur and the Drakkar came through with two more big wins, eliminating a Tigres team that finished 31 points higher than them in the regular season.
According to Le Nouvelliste on Friday
, Francoeur hopes to be in Saint John next weekend for the first two games of their series against the Sea Dogs because of the Easter holiday. After those two games though, it's unclear if he'll be able run the Drakkar bench due to commitments at his hockey school.
Games three, four, and five (if needed) of the series will all be played in Baie-Comeau. This is the first time since 2006-07 that the Drakkar have made it past the first round so the Henry Leonard Centre should be rocking.