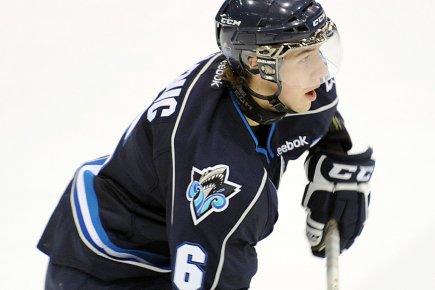 SAINT JOHN
– Moments after the Quebec Major Junior Hockey League made
the Scott Oke trade
official, the internet exploded with rumours that Jerome Gauthier-Leduc was heading to Saint John in a separate deal.
RDS reported that it was a done deal
but the Oceanic have since
denied the reports
. Now,
Jean-Francois Plante of Le Droit is reporting
that the Gauthier-Leduc deal will only happen if Maxime Garvel, who the Sea Dogs traded to Rimouski today, reports to Rimouski. If he does, Saint John will send back the first round pick they received today in exchange for the Gauthier-Leduc.
This could all be true. This could all be false. Now, we wait and see what happens.
The Sea Dogs drafted Gravel in the 2011 QMJHL Entry Draft but didn't report to training camp in August.
Gauthier-Leduc is the best offensive-defenseman in the league having recorded 51 points – 20 goals and 31 assists – in just 35 games. The 19-year old Buffalo Sabres prospect was among the first round of cuts from Team Canada's world junior selection camp earlier this month.
Even if this deal doesn't turn out to be true, it's probable that Saint John will do something big by January 7. The Sea Dogs now have three first round picks for this year's draft, and it's awfully rare to have that many in a year you a have shot at a league title.
The Chronicle Herald's Willy Palov
tweeted this today
.
I get the feeling that 1st-round pick Saint John got from Rimouski will be packaged with other assets to get Brandon Gormley.
How crazy would this be? Also, how weird would it be? Gormley was booed at Harbour Station when he played for Team QMJHL in the Subway Super Series.
Another option on defense is Cape Breton's Morgan Ellis. He'll cost a few assets as well, but like Gauthier-Leduc or Gormley, he would be a big boost on the backend.
What will Saint John do next? We'll find out soon.