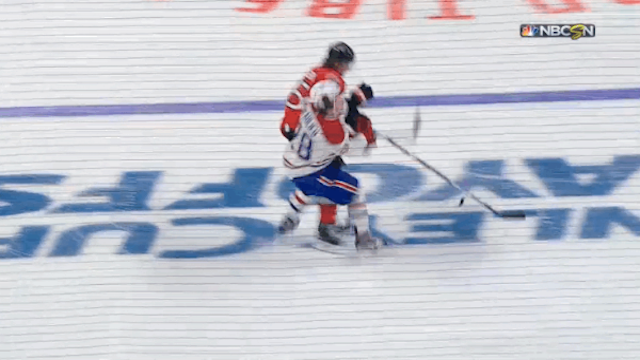 It was a hit heard 'round the hockey world last night, and unfortunately for Nathan Beaulieu, he was the victim.
Midway through the second period of last night's playoff game between the Ottawa Senators and Montreal Canadiens, Beaulieu got rocked by Erik Karlsson in open ice.
It was a rough game for Beaulieu who took a few big hits. His team had the last laugh though, winning 2-1 in overtime and taking a 3-0 series lead. Game four is Wednesday night in Ottawa. Beaulieu's status for the game is unclear.
Nathan Beaulieu has an "upper-body injury," per Michel Therrien.


— Chris Johnston (@reporterchris) April 20, 2015
Former Sea Dogs forward Mike Hoffman was a -1 with three hits in 10:26 of ice time for the Senators last night.
Some other news and notes…
Simon Despres and the Anaheim Ducks will look to take a 3-0 series lead over the Winnipeg Jets tonight in Manitoba. Despres had an assist, one shot and four hits in 16:30 of ice time in game two on Saturday.
Charlie Coyle and the Minnesota Wild return home tonight and are looking to take a 2-1 series lead over the St. Louis Blues. Coyle had an assist and four hits in Minnesota's 4-1 loss to the Blues on Saturday.
Tomas Jurco and the Detroit Red Wings lost 5-1 to the Tampa Bay Lightning on Saturday, evening the series at 1-1. Jurco was a -1 with one hit in the game. He played 13:18 overall and 4:11 on the power play. Game three is Tuesday night in Detroit.
The Halifax Mooseheads forced a game seven with a 7-5 win over the Moncton Wildcats last night at Scotiabank Centre. Kelly Bent had two assists and a game misconduct for the Mooseheads while Noah Zilbert had one assist for the Wildcats. Game seven of this entertaining and strange series is Tuesday night in Moncton.
Game six of the Baie-Comeau-Val-d'Or series is tonight in Baie-Comeau. The Drakkar lead the series 3-2. Quebec and Rimouski have already advanced to the semifinals.